UBI Research has published a market track on the market performance of 10-inch and larger OLEDs. Applications include TVs, monitors, notebooks, and tablet PCs.
According to UBI Research's medium and large OLED market track, the total sales in the first quarter was $1.46 billion, an increase of 16.9% compared to the previous quarter (QoQ) and 156.3% compared to the same quarter of the previous year (YoY).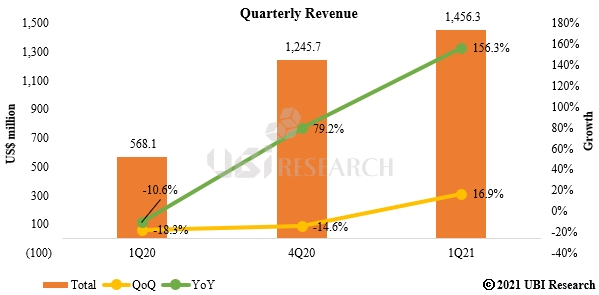 The reason for the sales increase in the first quarter is due to the increase in sales of large OLED panels for TVs and OLEDs for notebooks. TV OLED panels sold 1.6 million units in the first quarter, achieving the best performance ever. Notebooks OLED shipments are also increasing rapidly from this year. Notebook.s have a lot of icons and are the most concerned about image sticking, which is considered the biggest drawback of OLED. However, Samsung Display has been promoting since 2020 by developing OLED for notebooks that completely overcomes the shortcomings of OLED as a manufacturing technology accumulated from smartphones. Although OLED sales for notebooks in 2020 were only 800,000 units, shipments of 1.1 million units were achieved in the first quarter of 2021. Samsung Display is gradually expanding its business area to IT products following smartphones.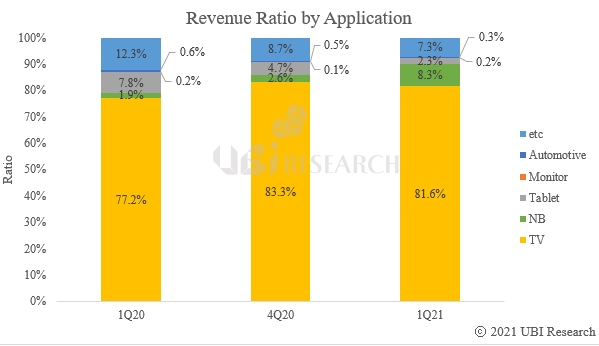 https://en.olednet.com/wp-content/uploads/2021/06/2qmarketml1.jpg
295
599
olednet
/wp-content/uploads/2015/09/logo_oled.png
olednet
2021-06-03 16:18:48
2021-06-25 17:14:18
Medium and large-sized OLED performance and forecast in the first quarter of 2021